Are you among the people that see and also make use of Air conditioners simply as heating and cooling systems without understanding that an air conditioner unit is just as an air filter or cleanser? Yes, because of this ignorance proper care might not be offered to the air filter in your air conditioning system causing unclean filters as well as unclean interior air.
Industrial air-conditioning systems are more powerful as the location they are situated in is usually complete with machinery and production where temperature levels can go beyond the average for working conditions.
CENTRAL AIR CONDITIONING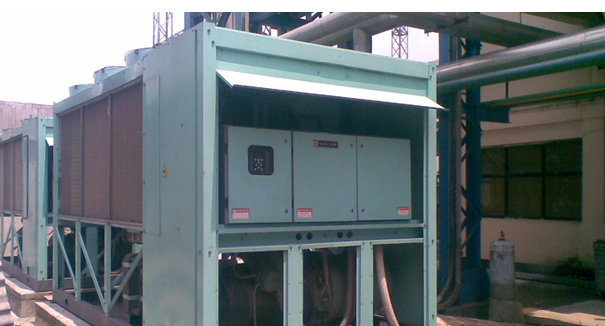 This caters to larger requirement of Air conditioning. Scroll/Screw Chillers maintains the critical temperature and RH and air quality requirement uniformly throughout the year for the control room, production facilities, R&D Center, Operation Theatres, etc. Capacity ranges from 10 TR to 100 TR and multiples.
WATER / BRINE PROCESS COOLING SYSTEM
This system offers Water/Brine up to -30°C for process cooling purpose using Screw/Reciprocating type compressors. The capacity ranges from three TRs to 200 TRs and multiples. The company executed more than 1,000 systems for process cooling requirement. Heat transfer via a brine chiller system provides substantially quicker, much more consistent temperature decrease than conventional air chillers.
DRY / WET VENTILATION AND EXHAUST SYSTEM
This system supplies ambient air with or without air washer to remove the excess heat generated by machines, furnace, etc. The hot air is exhausted through an exhaust fan with ducting and accessories. The system ensures required fresh air changes to remove heat, dust, etc. This is done using centrifugal blowers, air washer, UAF, exhaust fan, etc.
COLD STORAGE PLANT
This system keeps perishable and other products in refrigerated rooms. Vegetables, meat, chemicals, food products, fishery items require this facility to increase the shelf life of the product. The company caters to larger requirement of cold storage for different commodities in different temperatures.
MOBILE CHILLER / TEMPORARY AIR CONDITIONER
This system takes care of the temporary requirement of air conditioning for exhibition hall, public meetings, etc. This also takes care of process cooling and conditioning requirement at remote areas like desert, R&D application, etc. The chiller is housed in a truck with a Generator to cater to this requirement.
CLEAN ROOMS
Usually talking, a "Clean Room" is an encased room that has tools which manage the amount of particle issue in the air by using atmospheric pressure and filters. This system maintains the cleanliness and sterility of the production facilities for Pharmacy, Operation Theatres, Hospitals, Assembly Hall, sophisticated system, etc. The special filters, Ultra Filters, chemical filters incorporated take care of this requirement.
ULTRA DEEP FREEZER/GEYSER-CHILLERS/ICE MACHINE/TEMPERATURE-HUMIDITY CHAMBER
The ULTRA LOW DEEP FREEZERS maintains a temperature up to -100°C using special refrigeration system and special chamber for testing and R&D purpose.
1. GEYSER-CHILLERS:
Temperature Range: -70°C To 100°C.
Media                     : Water/Brine
2. Ultra Air Chiller (-80°C):
Cooling Capacity: 09 KW/3 Port.
Power: 440 VAC_3 PNE/ 7 KW.
Controller Type: Microprocessor Based PLC.
Cooling Type: Pressurized Air Flow.
Defrost: Manual ON/ auto re-start.
Safety Alarm: High Pressure, Over Current Phase Failure, Over/Under Voltage, Defrost.
Safety Device: MCB, OLR, Emergency Stop Switch
3. ICE MACHINE:
Evaporator Drum.
Ice Skates.
Refrigeration Unit.
Microcomputer Intelligent Control.
4. Temperature/Humidity Chamber:
Temperature Range: -70ºC To 180ºC.
Humidity Range               : 25% RH To 98% RH